Oracle RMAN (Oracle Recovery Manager) is a utility built into Oracle databases to automate backup and recovery; it includes features not available in third-party backup tools. RMAN was introduced in Oracle release 8.0.
How RMAN works
The RMAN environment must include a target database and the RMAN client. RMAN performs backups on the target database, and the client is the application that manages backup and recovery for the target database.
RMAN uses a media manager API to work with backup hardware. A user can log in to Oracle RMAN and command it to back up a database. RMAN will then copy the files to the directory specified by the user.
By default, RMAN creates backups on disk and generates backup sets rather than image copies. Backup sets can be written to disk or tape.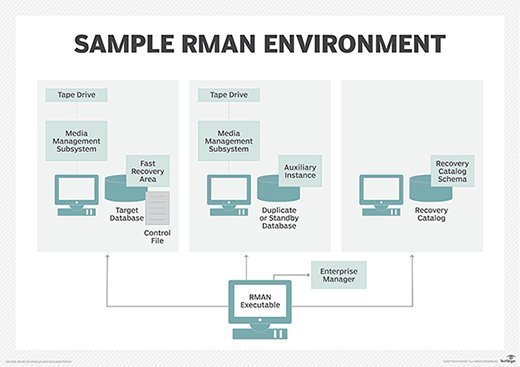 Follow These Steps :-
Firstly Check Your Database is In Archive log Or Not If Not CLICK HERE
2. Now Take Full Backup Of Database
3. After Taken Full Backup Now I am Going to Create a Situation .
a) Non-Critical Situation(By Deleting Users01.dbf File)
Then You Will Get This Error
For Recover Users01.dbf File .
b) Critical Situation( By Deleting System01.dbf And Undotbs01.dbf )
Then You Will Get This Error.
For Recover System01.dbf And Undotbs01.dbf File
4. Now Issue Has Been Resolved .
For Follow These Steps See this Video :- Click Here
For More Learn About Oracle :- Click Here